The Signature Difference
Because it has the biggest effect on sparkle and brilliance, cut is often considered to be the most important characteristic of a diamond.
For many people, it also the most difficult characteristic to understand. But when browsing BlueNile.com, it is easy to find the highest quality diamond with the most sparkle and brillance. Just look no further than the Blue Nile Signature Cut Diamond Collection.
"The Blue Nile Signature Cut Diamonds are the top 1% in the world and are hand selected and analyzed by our master diamond gemologists to ensure each diamond has the ideal proportions to produce maximum brilliance. The proportions of each Blue Nile Signature diamond are very specific, leaving no room for error, to guarantee that each diamond reflects the maximum amount of light." — Blue Nile
If a diamond is cut even slightly out of proportion, it may yield more carat weight but it will not be as brilliant as one cut to tighter standards. To create a diamond with great brilliance, as much as 74% of the diamond rough must be cut away — which is substantial compared to lesser cut grades where as little as 45% of rough is lost.
Additionally, the alignment of a diamond's facets, or symmetry, also has a strong effect on diamond brilliance. Each facet is like a mirror. When the facets are symmetrically aligned, all of that reflected light is focused directly at your eye. When a diamond has poor symmetry and the facets do not align, the result is light misdirection within the diamond and brilliance is lost. As seen in the image below, with the Blue Nile Signature diamonds, facets are symmetrically aligned and cut to standards that ensure brilliance is emitted evenly.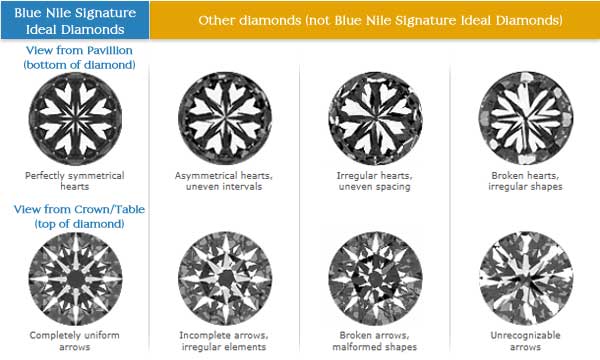 Blue Nile's Sinature Collection includes round, princess, emerald, asscher and cushion shapes.
Princess Cut Diamonds
The first and only princess-cut diamond with ideal standards, the Blue Nile Signature Ideal Princess cut is taken from the finest diamond rough and cut by master cutters to Blue Nile's exacting proportions to maximize light performance, brilliance, fire and scintillation. Most other princess shape diamonds are cut with a smaller crown height and larger table which results in a loss of light and therefore a loss of sparkle and brilliance.
Emerald
Like the Signature Ideal Princess shape, the Signature Ideal Emerald shape starts with hand selected rough and cut to the most exact proportions to achieve the classic emerald shape with the most brilliance and sparkle possible. In addition, all Blue Nile Signature emerald-cut diamonds have a guaranteed clarity of VS2 or better, so you can be confident yours will be eye-clean.
Asscher
Hand selected from the finest rough available, the Blue Nile Signature Asscher shape diamond has been cut by our master diamond cutters to ensure the classic square shape remains. The diamond is cut with wider corners so that all eight sides capture the maximum amount of light from all angles to produce the pattern of repeated squares that make this beautiful shape so distinct.
Cushion
The patented Blue Nile Signature cushion-cut diamond displays unparalleled light performance for this shape. These modern cushion cut diamonds were designed and created exclusively for Blue Nile and feature a one of a kind facet structure that was designed to display the level of fire, and brilliance only found in round brilliant-cut diamonds. Similar to the round Blue Nile Signature diamonds, these stunning cushion shape diamonds feature the hearts and arrows pattern to achieve exceptional sparkle and scintillation.